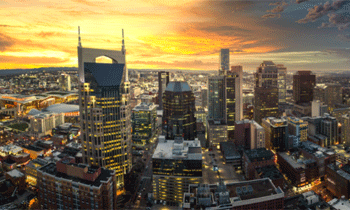 Welcome to Nashville!
Nashville is the capital of Tennessee and is one of the fastest-growing cities in the southeast with a population exceeding 700,000. Nashville is famous for its booming music industry, but also has an economy driven largely by education and health services. Nashville is home to many universities and has acquired many nicknames over the years, including Music City, Athens of the South, and Nashvegas. The JW Marriott, the site of the ENAR 2023 Spring Meeting, is situated in the heart of Nashville's booming downtown area, which features an assortment of entertainment, dining options, and cultural attractions.
PARKS, NEIGHBORHOODS, AND LOCAL ATTRACTIONS
Bicentennial Park
Situated behind the Tennessee State Capitol building, Bicentennial Capitol Mall gives visitors a taste of Tennessee's history and serves as a monument to Tennessee's Bicentennial Celebration, which was June 1, 1996. Be sure to stop by the nearby farmer's market for fresh fruit.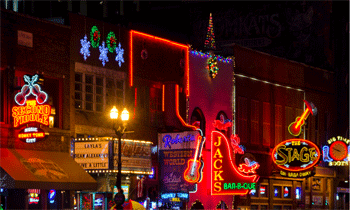 Cumberland Park
Cumberland Park is located along Nashville's riverfront between the Shelby Street Pedestrian Bridge and the Korean War Veterans Memorial Bridge, and serves as a perfect spot for families incorporating unique play structures and water features. The park also includes a large outdoor amphitheater that can accommodate over 1,000 people for events.
Centennial Park
Centennial Park is a 132-acre park located in the West End neighborhood and is home to the iconic Parthenon and features a one-mile walking trail, Lake Watauga, the Centennial Art Center, historical monuments, an arts activity center, a sunken garden, an events shelter, sand volleyball courts, and an exercise trail.
The Warner Parks
Edwin and Percy Warner Parks, located 9 miles from downtown Nashville, are one of the largest municipally administered parks in Tennessee and is featured in the National Register of Historic Places. Together, they span more than 3,100 acres of forest and field, and include a Nature Center, picnic shelters, dog park, scenic roadways and overlooks, hiking trails, mountain bike trails, equestrian center and horse trails, cross country running courses, golf courses, and athletic fields.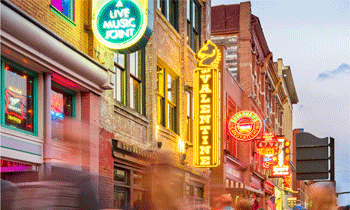 Tennessee Sports Hall of Fame and Museum
The Tennessee Sports Hall of Fame, founded in 1966 by the Middle Tennessee Sportswriters and Broadcasters Association, is an American hall of fame honoring athletes, teams, coaches, sports writers, and sports executives for their contributions to Tennessee sports. The Hall of Fame inducted its first class in 1966 and has since grown to include over 500 honorees and inductees.
Johnny Cash Museum
The Johnny Cash Museum features the world's largest collection of Johnny Cash artifacts and memorabilia in the world, including a stone wall taken from his lake house in Hendersonville.
Grand Ole Opry
The Grand Ole Opry honors country music and its history, showcasing a variety of famous singers and contemporary chart-toppers performing country, bluegrass, Americana, folk, and gospel music as well as comedic performances and skits.
Country Music Hall of Fame and Museum
The Country Music Hall of Fame and Museum is features two expansive floors of gallery space featuring permanent- and limited- engagement exhibits, safeguarding over 2.5 million artifacts.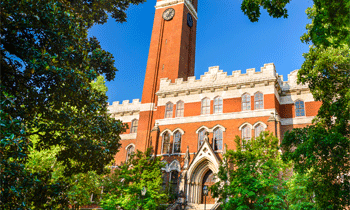 Broadway
Broadway runs through downtown Nashville. Lower Broadway includes an entertainment district known for its honky tonks and live country music. The street is also home to retail shops, restaurants, dessert spots, and tourist attractions.
Nashville Zoo at Grassmere
The Nashville Zoo at Grassmere is a nearly 200-acre zoological garden 6 miles southeast of Downtown. The zoo is one of middle Tennessee's top paid attractions and is home to over 6,000 individual animals, encompassing over 300 species.
The Gulch
The Gulch is known for chic hotels, high-end fashion boutiques and trendsetting restaurants. It is home to The Frist Art Museum, which hosts diverse, adventurous exhibitions, as well as film screenings and lectures.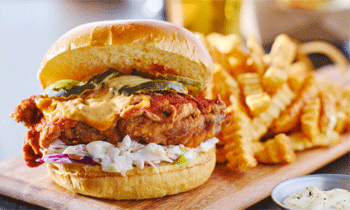 Vanderbilt University
Founded in 1873, the university was named in honor of Cornelius Vanderbilt, who provided the school its initial endowment in the hopes of helping to heal the wounds inflicted by the Civil War. The campus is known for its abundance of trees and green space. In fact, the campus was designated as a national arboretum in 1988 by the Association of Botanical Gardens and Arboreta.
Schermerhorn Symphony Center
The Nashville Symphony offers a broad range of classical, pops, jazz and family concerts. The Laura Turner Concert Hall features a creative automated system that can fine-tune the acoustics for a variety of music, giving the hall a range of acoustical flexibility that is uniquely appropriate for a hall in Music City. The four-story structure features a 29-foot-high north entrance bordered by columns that echo the city's grand civic buildings.
LOCAL CUISINE AND RESTAURANTS
Nashville is home to over 5,000 restaurants. There are many spots featured in the downtown area and beyond that exemplify the diverse selection of foods available to Nashvillians. Below are the names and addresses of ten such places.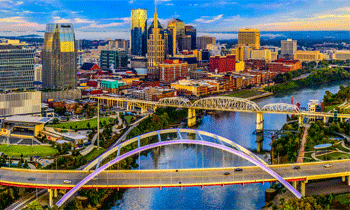 Etch
Hattie B's Hot Chicken
The Hampton Social
Martin's Bar-B-Que Joint
The Eastern Peak
Inchin's Bamboo Garden
Tikka Masala Indian Cuisine
Otaku Ramen
Mellow Mushroom
Los Toritos
303 Demonbreun St
5069 Broadway Pl Suite A-103
201 1st Ave S
410 4th Ave S
The Eastern Peak
1800 West End Ave
11 Arcade Alley
1104 Division St
423 Broadway
1302 A Division St
USEFUL LINKS
Visit Music City: https://www.visitmusiccity.com
Nashville Downtown: https://nashvilledowntown.com
Nashville Restaurants: https://nashville.eater.com/maps/best-nashville-restaurants-38
Nashville Parks and Recreation: https://www.nashville.gov/departments/parks