Welcome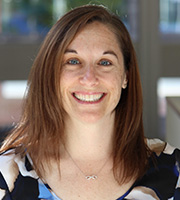 Leslie McClure
ENAR 2023 President
I am so excited to welcome you to the ENAR 2023 Spring Meeting! I look forward to seeing you at the JW Marriott in Nashville, TN. I'm especially excited to welcome our first-time attendees, and welcome back those who have not been back to in-person ENAR since 2019!
The four-day meeting, March 19-22, 2023, will have something to offer for everyone, including students, researchers, and practitioners, from across all sectors. Attendees can learn about the latest developments in statistical methods, software, and applications through the scientific and educational programs. The ENAR Spring Meeting is also a great time to build your professional network and meet new collaborators, to catch up with old friends and to make new ones. The meeting offers numerous opportunities for professional development and networking, such as tutorials and roundtables, contributed and invited sessions, the meeting's career placement services, and breaks and mixers.
ENAR is committed to fostering a culture of inclusion, professionalism, and civil discourse, which cultivates an environment where ideas are exchanged openly and freely with mutual respect and trust. ENAR has adopted a Meeting Conduct Policy that outlines expectations for all attendees and participants. All attendees must agree to abide by the policy when registering.
The work that goes into putting together the spring meeting starts years in advance and includes many people from across the organization. I am extremely grateful to everyone who has helped make this meeting happen, including the volunteers who served on the Program Committee and the Educational Advisory Committee, the students who help run the short courses, our partners at Virtual, Inc. who manage the meeting logistics, and everyone else who has given their time to make the 2023 ENAR Spring Meeting a success.
Scientific Program
Through the leadership of the Program Chair, Elizabeth Handorf (Fox Chase Cancer Center), and Associate Chair, Sameera Wijayawardana (Eli Lilly), and contributions from many of you, the Program Committee (consisting of 14 ASA section representatives, 6 at-large ENAR members, and a representative from JEDI) has assembled a diverse invited program. The sessions cover a wide range of topics in biostatistics, including causal inference, clinical trial design, Bayesian analysis and inference, precision medicine, medical imaging, diagnostics and wearable device studies, microbiome and omics studies, and machine learning. Other sessions will cover career development, collaborative research, and a look back at the history of our field as IBS celebrates its 75th anniversary. The IMS Program Chair, Xuan Bi (University of Minnesota), has put together complementary sessions on statistical genetics and genomics, machine learning methods in biomedical data science, causal inference, brain connectivity and brain imaging genomics, clinical trial design, as well as emerging topics such as distributed health data analysis, data privacy, individualization, and mobilization. After a brief hiatus, the IMS Medallion Lecture has returned! Professor Hongyu Zhao from Yale School of Public Health will speak about statistical issues in genome wide association studies. The lecture should prove to be outstanding!
Educational Program
Our educational program was assembled by the Educational Advisory Committee and provides many opportunities for ongoing learning through a diverse set of short courses, tutorials, and roundtables. We are grateful to all the instructors and leaders willing to share their expertise with attendees. You can choose from 3 full-day and 4 half-day Short Courses, with topics including methods for causal inference, clinical trials, Bayesian methods, programming in Julia. There will be six Tutorials across a range of topics, including: interacting with the media, transcriptome data methods, use of smoothing and splines, and service on Data Monitoring Committees. Roundtable luncheons provide a more focused discussion with distinguished statisticians in an informal setting with a small number of attendees. Some of the topics offered this year include grant writing, use of causal inference in collaborative research, nominating for and being nominated for awards, and building and maintaining a research group. Be sure to take advantage of the opportunity to learn something new from experts while at the Spring Meeting!
I would like to extend a special thanks to the members of the Educational Advisory Committee — Erinn Hade (NYU), Kiya Hamilton (FDA), Zhigang Li (University of Florida), Brian Millen (Eli Lilly), Abdus Wahed (University of Pittsburgh), and Cory Zigler (University of Texas at Austin) for their guidance developing an outstanding educational program.
Keynote Lecture
I am delighted to announce that the ENAR 2023 Presidential Invited Address will be delivered by Dr. Sally Morton. Dr. Morton is Executive Vice President of Knowledge Enterprise at Arizona State University, where she is also a Professor in the College of Health Solutions and the School of Mathematical and Statistical Sciences. In her EVP role, she is responsible for the University's research ecosystem, advancing research priorities, overseeing institutes and initiatives, and leading economic development, international development, and corporate engagement and strategic partnerships. Dr. Morton's research focuses on evidence synthesis, particularly meta-analysis, and patient-centered comparative effectiveness. Morton served as the 2009 president of the American Statistical Association (ASA). She is a Fellow of the ASA, the American Association for the Advancement of Science, and the Society for Research Synthesis Methodology. She received the Janet Norwood Award and the ASA Founders Award.
To learn more about Dr. Morton and her Invited Address, please see the Presidential Invited Address.
Additional Meeting Activities
The ENAR 2023 Spring Meeting will feature additional activities for networking and career development.
On Sunday, March 20th, there will be the Fostering Diversity in Biostatistics Workshop, organized by Miguel Marino (Oregon Health and Science University) and Danisha Baker (Microsoft). Through panel discussions, graduate students and professionals in academia, government, and industry will share their experiences and discuss topics such as mentoring, recruiting, and retaining students in related graduate programs. This workshop has been very popular and impactful, and registration fills up quickly. Please be sure to register early if you are interested in attending!
Students, recent graduates, and other young professionals should plan to attend Monday's Networking Mixer and Tuesday's networking lunch events, both organized by the Council for Emerging and New Statisticians (CENS). This is a great opportunity to meet new people, learn about CENS and become more engaged with ENAR.
Don't miss our Industry Partner Showcase, which will be open from Sunday afternoon through Wednesday morning. You will have the opportunity to engage with meeting sponsors in their respective booths and find out more information about their products and offerings. Join us Tuesday night for the Industry Partner Mixer, which provides a great opportunity to check out the latest books and software in the field, meet new people as well as catch up with friends, collaborators, and colleagues.
Last, but not least, attendees seeking employment and prospective employers can connect and schedule job interviews via the Career Placement Center. To learn more, check out the respective Employers or Applicants informational pages.
I can't wait to see you at the 2023 ENAR Spring Meeting!
Leslie McClure, ENAR 2023 President