Welcome!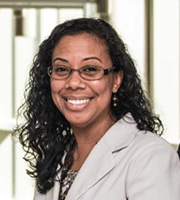 Reneé Moore
ENAR 2024 President
Welcome to the 2024 ENAR Spring Meeting!! Our meeting theme is "ENAR – A Home for Every Biostatistician." No matter whether you are a first-time attendee, a first-time attendee since the pandemic, or too many times to count attendee, our goal is that you find something exciting and relevant in the scientific and educational programs.
The four-day meeting, March 10-13, 2024, showcases diverse opportunities for professional development and networking through tutorials, roundtables, contributed and invited session, the Fostering Diversity in Biostatistics Workshop, the meeting's career placement services, breaks, and mixers. We are working hard to put together a program attractive to each of you—students, researchers, and practitioners from government, industry, academia and beyond. The scientific and educational programs provide opportunities to learn about new areas and strengthen foundations in statistical methods, applications, and software as well as to discuss topics important for professional development, mentoring, advising, and supervising.
ENAR is committed to cultivating a culture of inclusion, professionalism, and civil discourse, which facilitates an environment where ideas are exchanged openly and freely with mutual respect and trust. ENAR has adopted a Meeting Conduct Policy that outlines expectations for all attendees and participants. All attendees must agree to abide by the policy when registering.
I am so appreciative to each person who supports the planning and implementation of the meeting and the wholeness of ENAR. I am grateful to the volunteers who serve on the planning, program, and educational advisory committees; the Inclusion, Diversity, Equity, and Accessibility (IDEA) committee; the Council of Emerging and New Statisticians (CENS); the Social Media Committee; Student Paper Award Committee; Fostering Diversity in Biostatistics Workshop committee; poster judges; students who help run the short courses; webinar committee; RAB; RECOM; and our partners at Virtual, Inc. who manage meeting logistics, and to anyone else I've missed please charge it to my head and not my heart!
It is an honor to be the President for ENAR 2024, a community I first joined as senior in college attending a pre-workshop that a year later was officially named the "Fostering Diversity in Biostatistics Workshop." I have grown up professionally with the Diversity Workshop and ENAR community, and it is so special to me. I hope that when you attend ENAR 2024, you also feel special! I hope that you not only enjoy the scientific and educational aspects, but that you also enjoy the community, reuniting with old colleagues and friends, and meeting someone new who becomes a new member of your ENAR family.
I can't wait to be with you at the Marriott Baltimore Waterfront for the 2024 ENAR Spring Meeting!
Reneé H. Moore
ENAR 2024 President
Mark Your Calendars
ENAR 2023 Spring Meeting Submission Deadlines
Sept 5 – Oct 6, 2023
Distinguished Student Papers
Sept 5 – Oct 17, 2023
Contributed Session Proposals