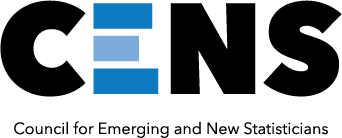 About CENS
Council for Emerging and New Statisticians (CENS) was formed in 2012 by ENAR's Regional Advisory Board (RAB) in 2012 to help ENAR better address the needs of all students and recent graduates. CENS is composed of 10 graduate students, post-doctoral fellows, or recent graduates, who are ENAR members from academia, government, or private industry. With the help of the RAB Liaison, CENS members collaborate to:
Bring student/recent graduate concerns to the attention of RAB and ENAR
Work to help ENAR better serve all students/recent graduates
Advise and help implement ideas to enhance the benefits of ENAR membership and to increase awareness of the benefits of ENAR membership to students
Organize a CENS session at each ENAR Spring Meeting
Assist in planning events that help advance students' and recent graduates' education and careers
Contribute to the development of ENAR's social media presence
CENS Mission
CENS seeks to advocate for the needs and concerns of students and recent graduates in collaboration with ENAR's Regional Advisory Board. Through annual events at the ENAR Spring Meeting, CENS strives to promote the benefits of participating in the ENAR community, support the advancement of students and recent graduates, and facilitate stronger connections within the statistical community.
Join CENS
We will be recruiting new members March-April 2022! Each member is appointed to a 2-year term. Within CENS, three or four people are chosen to participate in the steering committee, which reports to the RAB chair. Members of the steering committee will serve an additional year on CENS. CENS members will meet in person yearly at the ENAR Spring Meeting and participate in conference calls throughout the year to plan events and address issues as they arise. If you are interested in joining CENS, please email enar.cens@gmail.com.
Upcoming Events
CENS Session at ENAR 2022: Interdisciplinary Engagement as a Biostatistician: Maximizing Collaboration Skills
Monday, March 28, 2022 from 3:45 PM – 5:30 PM
Effective collaboration is central to success in most statistical jobs, however collaboration and communication skills may not be explicitly taught in standard statistics curricula. As a group of emerging statisticians at CENS, we recognize the challenges this gap in knowledge can pose to new statisticians, and aim to ease the learning curve and help early career statisticians succeed by facilitating a discussion on techniques and tools to initiate, foster, and support professional collaborations. In this panel discussion, we invite panelists with experience in diverse, highly-interdisciplinary environments to share knowledge and experience on what ingredients make their collaborations successful. The panel includes perspectives from academic settings, consulting, clinical research, and industry to show new statisticians how these skills can translate across jobs in the field of statistics. Broader topics for discussion will include best practices for managing expectations on project timelines and effort allocation, negotiating credit for your contributions as a statistician, as well as minimizing miscommunication and managing conflicts that may arise among collaborators.
ENAR Networking Mixer
Monday, March 28, 2022 from 5:30 PM - 6:30 PM (location TBD)
All students and recent graduates are invited to attend the CENS Networking Mixer. Registration is not required—so please plan to attend!

ENAR Networking Lunch
Tuesday, March 29, 2022 from 12:30 PM - 1:30 PM at local restaurants.
CENS will organize lunches for groups of attendees who share similar interests. The goal is to help attendees meet and network with each other. Although CENS will help to coordinate lunch at local restaurants, please note that lunch is at your own expense and CENS will not be able to cater to special dietary requirements. Closer to the meeting time, CENS will email all attendees interested in this networking event to request information to set up the groups and the lunch reservations.

Participants meet at the CENS table in the Exhibition Hall at 12:15 PM before walking with their assigned group to a nearby restaurant for networking and lunch! Participation is open to all meeting attendees. If you would like to participate, please select the CENS lunch option on the registration form or email CENS at enar.cens@gmail.com.
CENS Committee
RAB Liaison: Emily Butler, GlaxoSmithKline
CENS Steering Committee 2021-2022:
Bryan Blette – University of North Carolina at Chapel Hill (co-chair)
Hannah Weeks – Vanderbilt University (co-chair)
Sarah Samorodnitsky – University of Minnesota
Anna Seffernick – Ohio State University
Members:
Nicole Butera – George Washington University
Karissa Whiting – Memorial Sloan Kettering
Julia Wrobel – University of Colorado, Anschutz
Jeong Hoon Jang – Indiana University
Daniel Mork – Harvard University
Arielle Marks-Anglin – Mathematica
Contact Info
If anyone has any questions or comments for CENS, please contact us at enar.cens@gmail.com. Don't forget to "Like" us on Facebook and join our LinkedIn group.